What is Verland?
We are a non-profit family of person-centered, community homes and services supporting over 200 individuals with intellectual disabilities, many of whom have multiple physical challenges.
Introducing The Verland Visa Platinum® Rewards Card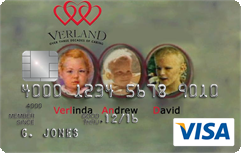 Help Verland with your everyday purchases while earning rewards! With the Verland Platinum Visa Rewards card, the bank will donate $50 to Verland the first time you use your card and an ongoing percentage thereafter. You will earn up to 15 points per $1 that can be redeemed for travel vouchers, event tickets and merchandise. Click here to apply today!
Our Mission
To establish, support, maintain, advocate, and operate residences and programs for the guidance, education, treatment and long term care of children and adults with intellectual or developmental disabilities, all without regard to race, color, creed, sex, or national origin and with emphasis on the spiritual, emotional, physical and social habilitation in order to bring about healing of the whole person.
Verland is committed to the belief that our society must provide for all human beings the opportunity to live a life of dignity, to maximize their potential and to contribute to our society to the full extent of their abilities.
"For truly, I say to you, if you have the faith of a mustard seed, you will say to this mountain, 'Move from here to there', and it will move; and nothing will be impossible to you."
Matthew 17:20
GoodSearch and GoodShop
Use GoodSearch exactly as you would any other search engine. Because it's powered by Yahoo, you get proven search results.  Simply select Verland as the charity of your choice and search!
Click here to use GoodShop.com to shop at the stores listed, and up to 30% of every purchase will be donated to Verland.  Find  coupons and deals for more than 1,000 stores!
Donate to Verland
One way to help is to make a contribution on the behalf of Verland through the United Way Contributor Choice Plan Card.
Also you can make a donation to Verland through PayPal by clicking below.
With your help, Verland will continue to make a difference in people's lives. 
2009 Copyright Verland All Rights Reserved